We hope you love the Jym protein review! Please be informed if you buy something via this guide, we may get a share of sales.
This product is made by JYM Supplement Science. This is an American Company that was founded by Dr. Jim Stoppani.
The company is renowned for making supplements that are based on real science and top quality ingredients.
Supplements that have for years provided incredible results for athletes and ordinary gym-goers.
Based on this company's background and the fact that it is highly rated on most online supplement stores, we frankly thought this product was going to be special.
And it truly is.
It is quite a decent protein product that we actually now recommend.
Read on Jym protein review to find out why.
JYM Supplement Science makes many products.
But this is one of the company's best-selling products.
It also competes favorably against the other top protein supplements found on Amazon and other supplement stores.
In this review, we are going to share with you every little important detail you need to know about it.
Details that we know will help you to make an informed decision in case you may be wanting to buy it.

---
What exactly is The Pro JYM Protein Powder?
This product is a special science-based and great-tasting protein powder that is particularly known for its rapid muscle-building results.
Unlike other protein powders made from a single source of protein – usually whey protein only – this one is made of more.
In addition to standard whey protein, it has whey protein isolate, egg white protein, milk protein isolate, and micellar casein.
These different protein types develop muscles better than powders with protein alone.
Pro JYM Protein Sizes
This protein supplement is available in two sizes: two pounds and four pounds. The smaller size is obviously cheaper than the bigger one.
But it also the best to buy if you just want to try and see how this powder will work for you. Two pounds may sound little but it has 23 servings of the good stuff in it.
Each serving of this powder will give you 24 grams of pure protein.
If you have been taking protein powders like us then you know for sure that this is a good amount of the macronutrient.
Especially if you take it before and after workouts and perhaps one more time during the day.
Available Flavors
This product is truly an outstanding product in terms of taste.
This may sound like something that not many people say about supplements but it is the case with this supplement.
If you know some bros in the gym then ask them what they know about this product. The first thing they would probably say is that it is great tasting.
The supplement is available in Chocolate Cookie Crunch, Chocolate Mousse, Chocolate Peanut Butter, Cookies and Cream, Rocky and Road, Root Beer Float, S'mores, Tahitian Vanilla Bean.
The flavors taste just like their name suggests.
If you do not know which one to pick, try either the Chocolate Cookie Crunch, Rocky and Road, or S'mores flavors.
They are highly rated flavors and taste great to many people.

---
What Makes This Protein Powder Special
Now you probably know that there are millions of protein powder brands available on the market. Okay, that is a bit of an exaggeration.
Maybe hundreds.
So what makes this different from the others? This is the question we asked ourselves and below is what we found out.
Pro Jym Protein Powder promotes muscle growth and development
This is the foremost special advantage of this powder.
It provides 24 guaranteed grams of protein per serving to maximize muscle growth.
Your muscles need quality and different types of protein to grow and a serving of this will provide all of that to you.
When you take it regularly, before and after your workouts, you will quickly start noticing growth.
It is a great-tasting supplement
Not many other supplements taste as good as this one.
We could mention some popular brands that taste worse but we don't want to get ourselves in trouble.
But what we can say for sure is that this protein is superior to most out there in terms of nutrition, taste, and texture.
It is available in a variety of flavors including S'mores and Chocolate Cookie Crunch.
So you are highly unlikely to find one you will not like if you go ordering some.
It is a science-based protein
The owner of the firm behind this protein is a training enthusiast.
He is also a Ph.D. scientist.
What these two things mean is that he knows his way around supplements. And this supplement is just proof of that.
It is made with the perfect ratio of different proteins for muscle development, strength, endurance, fast recovery, and energy.
That perfect ratio is 40 percent whey protein, 10 percent egg protein, and 50 percent casein.
Pro Jym Protein Powder is versatile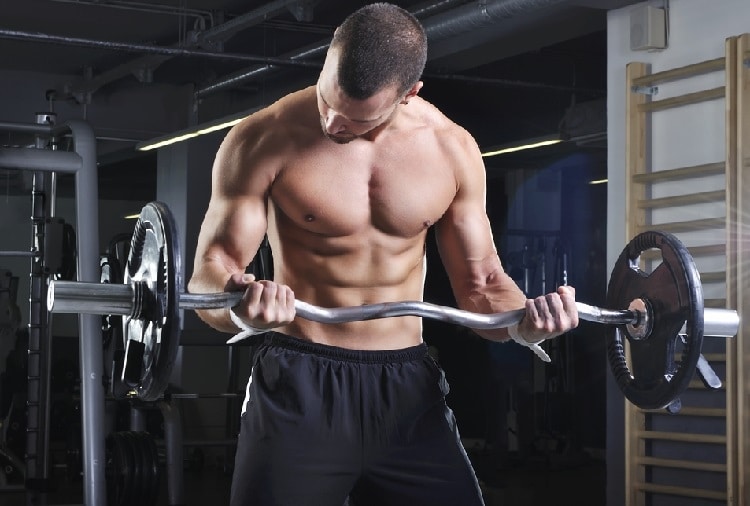 Many modern protein powders are made to be taken at specific times but not this one.
It can literally be taken any time and it will work just as good according to those who have used it.
You can take a serving thrice a day.
You can take a serving pre and post-workout.
You can take a serving before you sleep and it won't keep you awake as it doesn't have caffeine or any other stimulant.
You can even take this stuff as a snack.
It is not a proprietary blend and has no side effects
Many guys making products that are not quality nowadays hide behind labeling their ingredients as proprietary blends.
They pretend they have discovered new formulas for developing muscles or increasing energy yet what they have is just a mix of funny filler ingredients that do nothing.
This Pro Jym powder is not like that. It details its ingredients and its formulation.
You know clearly what you are taking when you consume a serving of it. This is why those who take it do not suffer nasty side effects.
Ready to ramp up your workout results and build more mass? Go get some packs here!
---
Who Should Buy This Protein?
As mentioned earlier in the title, this athlete is much sought after by athletes. This is because it only has pure, safe, and non-banned ingredients that are very effective at turning ordinary athletes into super athletes.
If you follow many power athletes on social media, you have probably seen one or two of them taking this you were just not paying attention.
So if you are an athlete, this will work very well for you.
If you are an ordinary athlete, you should also take this. It will help you achieve your goals faster. Ordinary non-gym going people, especially vegetarians who want protein supplementation can also take it.
Pro Jym Protein Powder Ingredients
The main ingredients that make up this super supplement include egg white protein, whey protein isolate, milk protein isolate, and micellar protein.
Other ingredients for taste, texture, stability, and preservation include silicon dioxide, acesulfame potassium, sucralose, lecithin, gum blend, artificial and natural flavors, brown rice syrup, acacia gum, and clean cream creamer.
Where to Buy This Protein Powder
The best place to buy this powder online is Amazon.com. Apart from it being an absolutely brilliant marketplace as you all know, it is also a good place to buy this particular supplement because it is cheaper there.
The shipping time from Amazon is also usually faster than what other similar platforms offer.
There is also the fact that you are highly unlikely to end up receiving a fake product if you buy it from Amazon.
Conclusion
This product as reviewed here is one of the best protein powders on the market.
It has got a good protein mix in the right ratio to accelerate your muscle development, increase your energy, boost your strength, and help you recover faster.
The protein is also great-tasting and made by a renowned manufacturer. It is something we would recommend in a heartbeat. 

---
Amazon Disclosure: "We are a participant in the Amazon Services LLC Associates Program, an affiliate advertising program designed to provide a means for us to earn fees by linking to Amazon.com and affiliated sites."